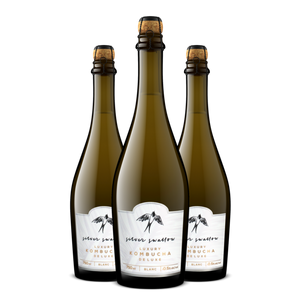 Luxury Kombucha Blanc 3-Pack
Sale price Price $59.95 Regular price Unit price / per
Bubbly not boozy — Silver Swallow Blanc is the champagne of kombucha. Carefully crafted using our namesake tea, silver swallow is hand picked in Yunnan, China only once per spring. These rare white tea buds offer vibrant floral notes and a clean, grassy finish. We've carefully brewed them into a non-alcoholic sparkling-wine stand-in perfect for celebrations big and small.
Tea Region: Yunnan, China
Tasting notes: herbaceous, wild flower, honey, tropical fruit
Pairings: fresh fruit, cheese, oysters & friends
Occasions: elegant brunches, dinner parties, special events, self care days
Mood: refreshing & celebratory
Features: non-alcoholic (<0.5% abv), all natural ingredients, preservative & sulphite free, vegan, gluten free

Unpasteurized. Keep refrigerated.
Ingredients: Filtered water, Kombucha culture* (bacteria and yeast), Cane sugar*, White tea*, Green tea*, Passion fruit, Carbon dioxide (*organic)
Size: 750ml
Nutrition facts and sugar content are found below

Caffeine: 10 mg per serving
The white !!!!!!!
Simply fabulous. Doesn't have that boozy taste that most Kombucha has. Love this one. Will order again!
Happy you loved the white Vickey! Isn't the tea-forward taste lovely?!?
Wonderful!
Happy to have stumbled across this brand and product at the spring One of a Kind show in Toronto. It's a luxurious and healthy way of enjoying something bubbly. As a nutritionist, I am picky with ingredients, and this product's ingredients met my high standards. I am happy I can serve this to family and guests for celebrations in replacement of alcohol such as sparkling wine and find it to be just as fun! Sometimes people are out off by such a heavy fermented taste when it comes to kombucha but I found this product to be very light and refreshing.
Thanks so much for your thoughtful review Julie. Glad we met your nutritionist standards! It's important to us to be 'sugar conscious' and just add enough for flavour!
So sorry, the product didn't live up to your expectation…..
The first bottle that I received from Mama Earth had much more flavour and you could taste the floral notes with hints of passion fruit and was bubbly. It was delicious, so I ordered some more.
I then ordered 6 bottles ~ 5 Blanc and 1 Rosé directly from Silver Swallow.
I was disappointed as the flavour was lacking and the kombucha and was less bubbly, it's more like drinking flat flavourless weak tea.
I emailed Silver Swallow with my feedback, asking if there would be a reason for this? Could it be just different batches, different taste or age?
NOTE ~ you must drink this kombucha, within six months of production date.
This was their response " I'm sorry the product didn't live up to your expectations. We reviewed the quality of that batch and it met our standards."
What would your business be without customers feedback? As long as it meets Silver Swallow's standards, so sorry it doesn't meet the customers expectations!
5 stars for the first bottle,
0 stars for the six bottles.
Again, sorry that the second bottle you tried didn't hit the mark. We appreciate your feedback. The taste does mature during the shelf-life of the product so perhaps that was the difference. We do offer a satisfaction guarantee and would be happy to refund your order if the taste is not for you.
Great alone or in trendy cocktails!
I got my hot little hands on this for New Year's Eve and it was absolutely delicious on its own, but I wanted to have a go at creating a non-alcoholic version of the TikTok sensation "a Negroni…sbagliato…with Prosecco in it!" With two non-alcoholic spirits, the Blanc made a delicious, summery cocktail that I enjoyed for several days until the bottle was empty. Truly a delightful experience.
Happy New Year! That non-alc recipe sounds delicious! Thanks for sharing!
Thanks for your feedback John. We wanted to make a refreshing option that didn't over power food pairings. We're delighted you liked it!