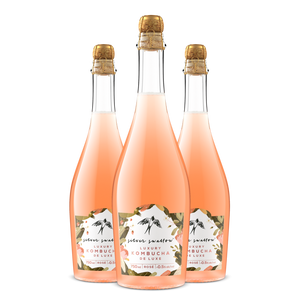 Luxury Kombucha Rosé 750ml (3 Bottles)
Sale price Price $59.95 Regular price Unit price / per
A rosé, you can actually savour all day — With notes of strawberry and brioche, this non-alcoholic Rosé is a rich and refreshing bubbly that glows salmon pink in the glass. Its creamy and fruity taste is thanks to kamairicha tea. Organically grown on a family estate on Kyushu Island, Japan, this unique and premium tea inspired Silver Swallow Luxury Kombucha Rosé.
Tea Region: Kyushu, Japan (Issinen family farm)
Tasting notes: brioche, strawberry, matcha, chestnuts
Pairings: seared salmon, citrus salads, red berries, pastries with cream and nuts
Occasions: plein air dining, poolside, girls' getaways, drag nights, romantic moments
Mood: fun, feminine, romantic
Features: non-alcoholic (<0.5% abv), all natural ingredients, preservative & sulphite free, vegan, gluten free

Unpasteurized. Keep refrigerated. Sediment is expected.

Ingredients: Filtered water, Kombucha culture* (bacteria and yeast), Cane sugar*, Green tea*, Strawberry, Passion fruit, Carbon dioxide (*organic)
Nutrition facts and sugar content are found below

Caffeine: 20 mg per serving
Delicious, festive and beautiful
We served this at my son's Grade 12 graduation reception and it was a huge hit. Looks beautiful and festive while tasting subtly delicious. A perfect special occasion non-alcoholic treat.
We're so glad we could be a part of your son's special day Geraldine. Cheers!
Delicious!
This Rose Kombucha is lovely. A satisfying swap for alcoholic bubbles. I see myself buying this again and again. ❤️
So happy we satisfied your craving for a good non-alc option! Thanks for sharing your feedback.
Excellent !!
This is delicious & a perfect replacement for a nice glass of wine !!
Amazing!
This is a fantastic non alcohol beverage! First time trying it & I'm hooked :)
Perfect for celebrations!
I had this for the first time on my birthday. I'd never had alcoholic rosé, so I was nervous that I might not enjoy it. But, to my delight, it was delicious! Perfect in the summer but it's just as great in winter.
Glad we can fill your flute with deliciousness all year long!